Storz Performance has developed a new line of Café Racer style accessories for use on 2004 to current model Harley–Davidson Sportsters. A new show bike, the Storz SP1200RR, has been constructed to serve as a rolling display case for these items. A hand formed aluminum gas tank and road race style fiberglass tail section with custom Saddlemen seat pads creates the basis for the look. Specially modified clip-on handlebars by Driven are mounted to the Storz/ Ceriani 55mm Inverted fork tubes above the top triple clamp. Ohlins rear shocks with adjustments for compression & rebound damping, spring preload, and overall length, complete the suspension package.
The donor bike for this project was a low mileage 2007 model 883 Sportster, but installation of a Wiseco piston kit increased the displacement to the 1200cc level. A BUB / Storz 2:2 high pipe exhaust and a Performance Machine air cleaner handle the breathing chores on this fuel injected bike.
The bike rolls on 18" wheels, front and rear, with Metzeler tires, Galfer Floating Wave Brake Rotors, and Performance Machine brake calipers. A Storz billet rear set footpeg kit, Barnett custom cables, PM hand controls, and a Storz/Ceriani Steering Damper keep things under control. Pearlescent paintwork done by Vintage Restorations, Oxnard, Ca.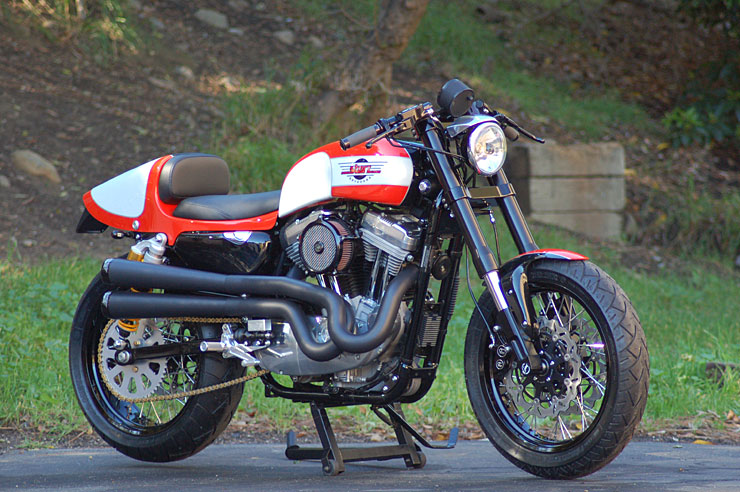 STORZ SP1200RR CAFÉ RACER PARTS LIST
P/N
Description
Retail Price
AT-1200RR
Alloy Gas Tank, 2004-06
$1250.00
AT-1207RR
Alloy Gas Tank, 2007 +
1295.00
FGL-300
Fiberglass Tail Section w/ Seat Pads
495.00
ML-351-04
Tail Lamp and Seat Mount Kit
169.00
IF-255
Plastic Inner Fender
56.50
HD144
Ohlins Shock Set, 14 1/8"
1500.00
HD255B.3334-DSB
Storz/Ceriani 55mm Inv. Fork Legs
$1865.00
HD255.03-PB
Mid Triple Trees, polished black
785.00
HLB4354
Headlamp Adaptor Bracket
32.00
DCLO-55BK1
Billet Clip-on Bars, 1" diameter
315.00
19248
Wheel Spacer Kit
48.00
08837
Front Brake Line Kit
178.00
FW1835-B
Front Wheel, 18 x 3.5" polished black
$1050.00
RW1855-B
Rear Wheel, 18 x 5.5" polished black
1185.00
ME880F
Metzeler Front Tire 130/70-18 (ref.only)
------------
ME880R
Metzeler Rear Tire 180/55-18 (ref.only)
------------
1200WT
Chain Drive Kit (for 520 size chain)
340.00
GF680F
Galfer Wave Brake Disc 11.5 dia. (X3)
320.00
HD083-04
Billet Rearset Footpeg Kit
$728.00
08845
Rear Brake Line Kit
155.00
HD883-R
Steering Damper Kit
420.00
KSB-88312-B
BUB/Storz Exhaust, black
1045.00
0053-2919-BM
PM Brake Caliper 137x4B LT Front
$449.95
0053-2920-BM
PM Brake Caliper 137x4B RT Front
449.95
1293-0052-B
PM Rear Brake Disc Kit
549.95
0063-2023-B
PM Billet Handgrip Set
119.95
0063-2002-B
PM Throttle Housing
89.95
0062-2035-B
PM Switch Assembly, 3 Button LT
229.95
0062-2032-B
PM Switch Assembly, 3 Button RT
229.95
0062-2910-BM
PM Handmaster Cylinder 11/16"
369.95
0062-2030-B
PM Clutch Perch
269.95
011-0500MP-B
PM Spacer for Clutch Perch
20.00
0062-2612-B
PM Brake Light Switch Assembly
49.95
0206-2008-B
PM Air Cleaner Assembly, black
344.95
Please call for estimates on complete bike builds.
---
Storz Performance, Inc.
239 South Olive Street - Ventura, CA 93001
Phone 805-641-9540 Fax 805-641-3650
The names STORZ ® and CERIANI ® are registered trademarks of Storz Performance, Inc. Any other product names in this catalog are the property of their respective holders. Contents of this catalog are Copyright 2012 by Storz Performance, Inc. All rights reserved, including the right to reproduce this catalog or portions thereof in any means electronic or mechanical without prior written permission from Storz Performance, Inc.